Why use a REALTOR®?
Your REALTOR® can help you determine your buying power. You need to know how much house you can afford before you start the search. Your REALTOR® will provide detailed information on properties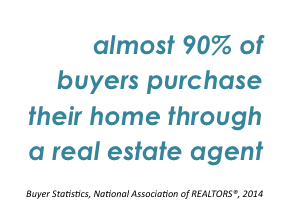 that meet your criteria from the Multiple Listing Service® and other information resources only available to REALTORS®
Only Sales Representatives who are licensed members of organized real estate (National Association of REALTORS® for US and Canadian Real Estate Association in Canada) can call themselves REALTORS®. Only REALTORS® are held to a high code of ethical and professional conduct by these organizations. Only REALTORS® have access to their market data to provide you with current information to guide you through the buying process.
Services You Will Receive
Assistance in identifying the required characteristics of your new home

Identification of available homes that meet your criteria and additional homes as they come on the market

Accompany you on home tours

Information on communities, schools, places of worship, and other lifestyle information

Helping to determine your buying power, down-payment required, and maximum mortgage amount for which you qualify

Review of similar properties recently sold

Regular communication to review progress

Expert advice when preparing an offer

Keen negotiating skills

Closing Information
EXIT GIVES BACK
with each transaction
A portion of every transaction fee received by EXIT Realty Corp. International is pledged to its charity of choice and to-date, $2.5 million dollars has been pledged to Habitat for Humanity International.  EXIT Realty has a long history with Habitat and has been an enthusiastic corporate sponsor of several full and partial home builds across North America, community revitalization projects and has participated in the Jimmy and Rosalynn Carter Work Project. 
According to Habitat for Humanity International, more than 827 million people worldwide live in urban slums and in the U.S. alone, 48.5 million people live in poverty.  The organization believes that every person should have a decent and affordable place to live and through their world-wide network of volunteers, thousands of low-income families have found new hope in the form of affordable housing. Habitat for Humanity partners with families who invest sweat-equity hours in building their homes and others. They make affordable down-payments, make timely mortgage payments and attend homeowner education classes. Companies like EXIT Realty donate funds towards the building of the homes as well as providing construction volunteers.
"Home is such an emotionally-charged word. Statements like, 'Honey, I'm home!' or 'Home for the holidays' are filled with heart-warming sentiment," says Tami Bonnell, EXIT Realty Corp. International's CEO.  "It's a word that means comfort, safety, security and so much more. EXIT Realty is proud to work closely with the Habitat organization to help make the dream of home ownership a reality for families across the continent."